"Geniet van een complete beleving."
All-in experience
Total culinary experience
The all-in experience is available for 6 courses. On top of the menu, enjoy a sparkling aperitif, amuse-bouches, bread and butter, table water, wine experience, menu and coffee with friandises. A complete culinary experience.
All-in arrangement 6 gangen | €150
All-in arrangement 7 gangen | €170
Groups
Restaurant Maeve offers semi-private dining to groups of 12 people and more.
The restaurant can be separated into two spaces, making it an ideal setting for for private group dinners. We would love to find the perfect solution for your lunch or dinner.
Please contact the team via info@restaurantmaeve.nl.
Stay in the area
Some suggestions to spend the night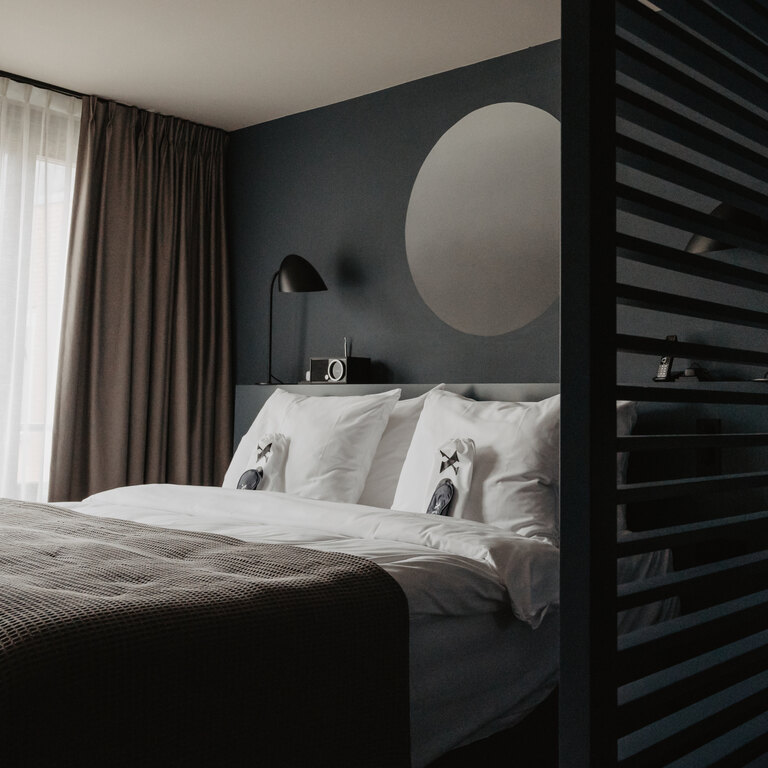 The Nox Hotel
2 minutes walking distance from restaurant Maeve
We'd love to introduce you to this hidden gem and newcomer in Utrecht. Enter the 17th century building and let the sky blue colours charm you. The Nox offers a stellar escape from reality, luring you into a world of design, luxury, excellent service and international allure.
From its name to the details, the hotel was inspired by the night and has proven that high-end luxury and sustainability are a dreamy match.
If you would like to stay at this hotel, please book here.
Photographer: Tanne de Lange
Mother Goose Hotel
4 minutes walking distance from restaurant Maeve
Find Mother Goose at the Ganzenmarkt and in the heart of the historic city centre. If you're looking for a one-of-a-kind place to spend the night, this is it.
Mother Goose is not like the standard hotel experience, it really feels like coming home. In addition to the staff's personal and extremely considerate approach, we love the building's rich history and unique decor.
Every floor has its own colour scheme and some rooms even have a spectacular view of the Dom tower.
If you would like to stay at this hotel, please book here.